Wish you had an expert writing partner who could help express your ideas, reinforce your brand, and take your professional visibility to a new level?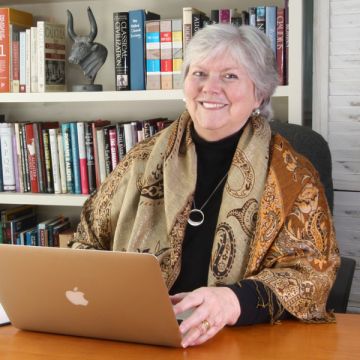 I'm Sherry Christie, the co-author/editor of seven business and financial books with CEO and professional partners. Over the years, I've also co-written dozens of articles with a renowned "money therapist," and have ghostwritten many more for corporate clients.
A former advertising agency copy chief, I also have over 20 years of experience in developing brand strategy and communications for money-center banks, community banks, credit unions, mutual fund companies, and registered investment advisors, as well as providers of annuities and life insurance.

Let me show you a sample.
As the "Money Shrink," psychotherapist Olivia Mellan was a frequent interviewee in national media, from the Today Show to Oprah to The Wall Street Journal. I became her editor and co-author, helping her share her guidance and expertise in five books and many articles about money psychology, including this feature which appeared in Investment Advisor magazine: "Too Many Choices."
Collaboration works best when it's fun. Wouldn't you agree?
I'd like to base a relationship on relaxed, informal conversations with you about your ideas and aims, your thoughts and beliefs, and your battle scars. It's part of learning how to speak and write with your voice. And it's how we can make 1 + 1 = 3.
If you're interested, let's discuss what you have in mind. There's no cost for a preliminary chat, and anything you share with me will of course be kept confidential.
When would you like to talk?
Email me about your best times to connect by phone, Zoom, FaceTime, or whatever other method you prefer. Let's see if we could partner together to turn your ideas into an outstanding book, article, or campaign.
In my spare time, I write historical novels.
I've also written about the early Roman Empire in Roma Amor: A Novel of Caligula's Rome and Amber Road: A Novel of Love and Betrayal on the Roman Frontier. For more about my historical fiction, visit roma-amor.com.